Featured Items
---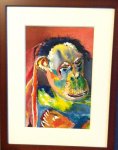 Negra Chimpanzee WatercolorCurrent Bid:
$ 250.00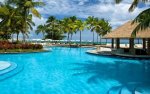 Paradise in Puerto RicoCurrent Bid:
$ 400.00
Biddin' for the Seven 2013
---
November 9, 2013 11:00 am PT - November 12, 2013 8:00 pm PT
Welcome to Biddin' for the Seven 2013!
Biddin' for the Seven is an online auction to benefit Chimpanzee Sanctuary Northwest (CSNW) and celebrate art and artists at the same time. We've thrown in some other fun items to bid on as well!
The auction begins Saturday, November 9th at 11:00am PT and ends Tuesday, November 12th at 8:00pm PT.

The art and handcrafted jewelry you see in this site will also be displayed in person at the 5th annual Sippin' for the Seven event in Roslyn, WA.
Your bids and your Sustain the Sanctuary donations through this auction will go directly to the care of the chimpanzees, so bid high and bid often, and make a donation today. Help us exceed our $12,000 goal for this auction!
Because there are very popular items in the auction that many people wish to win, we've enabled a feature in this auction called "Bid Wars."

This is how Bid Wars works:

Although the Biddin' for the Seven auction is scheduled to close at 8:00pm PT, if an item receives multiple bids at any point in the last ten minutes of the auction, the close of that auction item will be extended until the bidding competition ceases and no bids have been placed within a designated time frame. The new close times will appear during the final moments of the online auction and will be extended again if new competitive bids are placed. It's a way to ensure that the person really willing to pay the most for the item will win it. Plus it will make the bidding even more fun at the end of the auction!